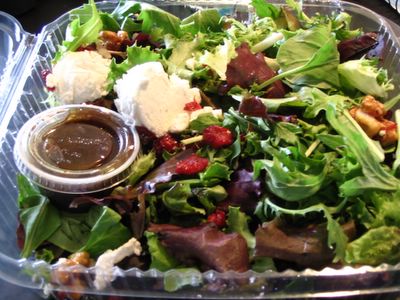 Goat cheese and candied walnut salad with dried cranberries

Note: As of October 2005, Good to Eat has closed. Damon and Pythias has opened in its place. The original review of Good to Eat follows.
Just off the Promenade on Wilshire between 3rd and 4th lies Good to Eat, an
inviting sandwich shop of
sorts
that specializes in cheese. I have walked by here at least 200 times (scary thought), often admiring their sleepy nighttime chalkboard sign that says "Good To Eat Is Closed" and is adorned with chalk moons and stars. I feel bad for the place because it
doesn't seem to get a lot of busines
s. I worry about it going out of business because it is a small, independent place, and a very popular Panera with longer hours recently opened a block and a half away. So today for lunch I decided to finally see what was behind the chalkboard sign. I can't tell you how many places I eat at our of sheer curiosity. I have this awful compulsion to try every restaurant. Impossible in LA, I realize, but that's part of the beauty of living here.
I go in around 3:15 and receive a
friendly but not obnoxious greeting
from the guy taking orders. I search the menu in vain for the panini listings. I ask about the panini. I am pointed to a display case. I am now turned off. You mean my
food has been sitting in a display case for hours
? This can't be good. In addition to that meaning that my order will not be made fresh, it also means that it's likely to have that display case taste to it. I have an extremely delicate sense of taste--I can't put food in plastic bags because I can taste the plastic, I can't eat food out of display cases because I can taste the recycled display case air. Needless to say, I'm a big fan of Tupperware and foil. He tells me that they can make me whatever kind of panini I want. Great, a place that will do custom orders. I'm pleased.
So I decide to get a half sandwich and a half salad. But wait! They don't do that! They won't do that! It's either a soup and half salad or a soup and half sandwich. Huh? Panera will give me a half salad and half sandwich. They will make anything I want. Good To Eat is
not doing a great job of winning any loyalty from me
. So I go for the goat cheese and candied walnut salad, sans sandwich.
The salad is
nothing to get excited about
, but there is absolutely nothing wrong with it, except that I hate those funky weeds that always come in spring mix. The dried cranberries don't have that slightly rancid taste that too many dried cranberries do. The vinagrette dressing is maybe a tad heavy on the oil, but it's tasty, in an unoriginal sort of way. The lettuce is fresh. The candied walnuts, eh, they aren't too candied. The goat cheese is, dare I say, fluffy. It's got that nice chevre tang, and the fluffy texture is a lot more pleasant than the dense blocks of goat cheese I buy at Trader Joe's.
The menu consists of
soups, sandwiches, and salads
. Whatever basic lunch item you want, you can get it here. They also have a carrot cake and a somewhat sickeningly yellow lemon cake, about 20 cheeses, and several hot dishes, beef lasagna or grilled chicken.
Almost everything here contains meat
, which is another reason I wasn't too thrilled with the menu. Their bread comes from
La Brea Bakery
(good call) and they have a nice selection of Hansen's and Izzy (?) (you know, the people who make the pear soda) beverages, as well as the usuals.
I was hoping Good To Eat would be like Stroh's Gourmet on Abbot Kinney, but unfortunately, it is not. Stroh's is a lovely gourmet foodstuff and sandwich shop that I used to frequent after meeting an attractive farmer there one evening while I was being chased by a homeless schizophrenic man who couldn't get anyone to give him a haircut (could I have made that up?). Stroh's, while they also keep their food in a display case (I can't taste it though), has more interesting menu items, more enticing sandwich bread, and their restaurant space isn't half empty. Good To Eat is so minimalist that you almost think someone has come in and eaten half of their stock...until you realize that nothing was there in the first place. It's an odd feeling, like they're having a going out of business sale.
There is one long table inside with a red and white checkerboard tablecloth, and a few tables for two outside on a pretty busy stretch of sidewalk. The floor inside is bare concrete, and the walls are painted a muted red. There were approximately four people working, one at the register and three in the kitchen. The space is fairly narrow, but the ceilings are incredibly high. I got my food to go. It was quiet, minus the hum of the display cases and beverage fridges.
My salad was about $10 including tax and I could have had a fantastic Indian buffet for that price or less. Good To Eat is probably more of
a place for the corporate Santa Monica luncher
who is satisfied with ham and swiss cheese in a quiet environment
. Yet, I have a feeling Good to Eat aspires, or once aspired, to be something more interesting than that. Though my food was not bad, I won't go back because it just wasn't interesting enough. I could have made the salad myself, easily, for a lot less. Minus the cheese selection, perhaps, this is not a foodie's paradise.
Good To Eat
313 Wilshire Blvd
Santa Monica, CA 90401
310 - 656-0012