Chicken with yuzu
Why have I been to Musha more times than I've been to any other restaurant in LA? Most of the time, my obsessive drive to try new restaurants prevents me from revisiting even places I love, but
Musha wins me over again and again
. In a city where restaurants rarely bother to charm their patrons, Musha is a blazingly bright star, going above and beyond most places even before you walk in the door with friendly, always-changing chalkboard invitations like "Party all night long with Musha!"
Musha eschews one of the most ubiquitous traits of the Los Angeles restaurant scene -- indifference. Accidentally leave your leftovers on the table? They'll chase you out the door before you can drive off without them. Three-year-old about to run out the front door onto chaotic Wilshire Boulevard? Don't worry, the hostess will stop her. Forget your glasses? They'll hold on to them for you.
Pork, kimchee and assorted mushrooms
Musha isn't just another place to eat: it's a
restaurant with a mission
. The cover of Musha's menu says, in endearlingly imperfect English:
An izakaya is your place. And so the quality most prized in these traditional pub-restaurant
isn't artistry or creativity or even really good food. It's familiarity. Plain, predictable, even a
bit dowdy that's what "real" izakaya lovers love. No doubt Musha has disappointed some
of
these purists. For the message here is that izakaya doesn't have to choose between
old-fashioned and new-fangled. It can be both.
Indeed, Musha isn't the kind of place you visit just to quench your thirst and inhale a burger. It's
much more restaurant than bar
, owing to its small size, lack of liquor license, and well-conceived dishes.
The owner's
personality and love of food shine
in the menu, which is sprinkled with humor and trivia. In the salad section, it says, "About 70 years ago, Japanese people didn't have a culture to eat raw vegetable. Did you know that?" As far as drinks go, while they don't serve hard liquor, they do serve sangria, sake, and various cocktails made with soju, a sweet rice wine with a high alcohol content. (The sangria was on the watery side though, which was disappointing.)
On every visit to Musha, something hasn't quite met my picky standards, yet I keep returning. Why? This is definitely
the friendliest restaurant in LA
, with an atmosphere that's jovial and down-to-earth. On my first visit, I ended up celebrating the birthdays of two strangers. The staff turned off all the lights and the whole restaurant sang happy birthday as the birthday person was presented with a candlelit dessert.
The
interior is aesthetically pleasing
, right down to the plates and glasses. The dark wood interior gives the restaurant a
warm, cozy
feel. Some of the tables are too close together, though, and it can be difficult to hear because of this and the overall acoustics. On weeknights, the service is fine, but it can be turtle-slow on Saturday nights. Waits can also be quite long on weekends nights, and there's really no waiting area.
Musha's bathroom shows the kind of
attention to detail
the restaurant has when it's at its best. They take care of the basics, of course--the bathrooms are clean and don't smell. But then there are
small drawings on the wall
with a sign that says, "Please do not steal! Ask me and I will make one for you." They also have mouthwash and a stack of small disaposable cups (brilliant, especially if you're on a date). Surprisingly,most places don't seem to consider their restroom to be part of the restaurant, even though probably at least half of their diners will pass through, some more than once. The usual bright bathroom lights and stark decor tend to be a jarring departure from the rest of the dining experience.
Seared Albacore Tuna Salad
You might mistake Musha for a sushi restaurant
if you didn't know better. What else could a Japanese restaurant five blocks from the beach be, you assume? But while Musha does serve sashimi, it does not serve nigiri or maki sushi and is not a sushi restaurant. Their sashimi isn't top quality, but it passes in crowd-pleasing dishes like the seared albacore tuna salad.
Pure tofu
The menu's
many tofu dishes
showcase the chef's appreciation of the soybean. This section of the menu is called "Tofu World" and urges diners to "Try all!!" The dish called
Pure Tofu
is described as "Tofu lovers!! This for you. The geniune soy milk tofu made the perfect softness, that could melt on your tongue. Served with kelp salt give you the new impression of tofu." Musha's description is dead-on. My previous two experiences with fresh tofu left a bitter taste in my mouth -- literally -- but Musha's tofu was addictive. The serving size was huge, too, especially considering that the dish was under $5. I've also enjoyed the
tofu french fries
, which are essentially thin strips of deep fried tofu that come with ketchup and mustard. They're heavier than regular fries, but healthier.
Yuba Shinjo: Shrimp dumplings wrapped with tofu skin, deep fried and served with tentsuyu dipping sauce
Though I have often felt not-quite-excited by what I consumed, I'm always excited by the
variety
of dishes. In addition to basic easy-to-please dishes like edamame, miso soup, and Musha's Fried Chicken, there are many
unusual (for some diners), innovative, or intriguing dishes
such as kabucha croquettes, dried stingray fin, and thin sliced beef tongue. They also have a
plethora of vegetarian dishes
--interesting, quality dishes that aren't made for the sole purpose of being vegetarian, but just happen to be.
The prices are definitely right
, too. Dishes range from $4.80 for tofu to $15.80 for steak, but most plates are around $8-9. Depending on what you order, you might want 2 or more dishes to get full, though. Two usually does it for me, but I'm a light eater.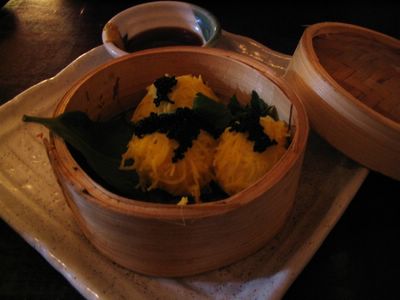 Shumai: scallop dumplings with vermicelli noodles and fish eggs
Musha's signature dish is a tall, thick omelette with chopped pieces of octopus and a sweet sauce (not pictured). It's
Eat Drink and Be Merry's favorite dish
, in fact, and one of the few dishes on Musha's menu that's big enough to fill me up.
Meals end with a complimentary diced orange or canteloupe and hot tea. On the way out, one of the male staff members gives a small goodie bag with Japanese hard candy in flavors like lychee and condensed milk to all female patrons.
"Only for women!"
he admonishes half-jokingly.
As much as I am obsessed with finding culinary perfection, it seems that the places I return to over and over again entice me withsuch great service and a cozy atmosphere that I can overlook slightly-short-of-perfect food. Having spent the rest of my life in considerably more down-to-earth cities than LA, this is a real draw for me. In spite of its occasional imperfections,
Musha is one of my favorites
, and I will keep going back.
Musha
424 Wilshire Blvd
Santa Monica, CA
310-576-6330
6pm to 11:30pm Daily
Musha's Website
Tip: Musha has a private room available that seats 10-12. There is no extra charge for the room but they ask that you spend at least $25 per person. That's about what I spend to eat here anyway, so I think this is a good deal for some privacy and peace and quiet.
Mushaboom, mushaboom. . .