Dining room
I went to Marrakesh on a word-of-mouth recommendation and because I was in the Valley. I had no idea what to expect, and was pleasantly surprised over and over again throughout my meal.
When we arrived around 6:00 on a Sunday, the restaurant was pretty empty, and it wasn't until about 8:00 when we left that a respectable number of tables were filled. I couldn't see the whole restaurant from where I was sitting though, only about ten tables. We didn't like the table they first seated us at--we wanted a cozy corner booth, and didn't see why we had been seated so close to the only other party in an otherwise empty room. We switched to another table without any problems. That was the only thing that went wrong the whole night, and it wasn't even a real problem.
A meal at Marrakesh starts out with a hand-washing ceremony. I was a little thrown off, since I didn't really know what to do, but basically everyone puts their hands in the center of the table over a dish and a server comes by with a large, ornamental container and gently pours water over everyone's hands. Then you're given a towel to dry your hands with.
The servers are outfitted in traditional dress, and there are no menus. Everything is served family style, and there are about four options for each of several courses, including a lot of lamb and fish dishes. Our server took care to present all of our options slowly and carefully and to make recommendations since we weren't familiar with the restaurant or with Moroccan cuisine. None of the options presented were vegetarian-friendly, so if you are or will be dining with a vegetarian, call ahead to find out of they can accommodate you. Since the service was so good throughout the meal, I wouldn't be surprised if they were willing to put something special together.
Appetizer plate
My favorite part of the appetizer plate was the reddish mush you see, which was an eggplant and tomato (I think) dish. I also liked the cucumbers and the beets, and, not surprisingly, I didn't like the carrots (I never do). I'm a big fan of variety, so I liked that there were a lot of different things on the plate. The only problem was that for me, this plate alone could have filled me up. I had to pace myself, especially on the eggplant. Our meal also started off with a simple tomato-based lentil soup. Servers come around to serve bread out of a large, traditional basket and encourage you to take as much as you want. I was afraid they would charge $5 per hunk when the bill came, but they didn't charge extra, so eat all the bread you want. I think the bread was French bread, which isn't a surprise since Morocco was a French colony.
Lamb kebabs and couscous
I pretty much left the lamb kebabs to my friend, since chunks of meat are just too carnivorous for me. I poked at the couscous, but it was too dry, as usual. I settled for eating the potatoes and raisins.
Around this time, a blonde belly dancer came out and danced for several songs. I found it a bit awkward--you're supposed to look, and yet at the same time, I felt like I wasn't supposed to look. Since there were only three parties seated in our area of the restaurant, I didn't want to ignore her, but at the same time, watching a woman dance sexily for random men doesn't appeal to my feminist convictions. Also, she invited me to get up and dance, which I really didn't understand, since I would have looked like a moron in my street clothes next to her elaborate costume and I didn't know a thing about belly dancing.
Honey lamb
The meat, served in a thin, sweet sauce, was very tender and juicy. I loved the plump raisins that came with this dish as well as with the lamb kebabs.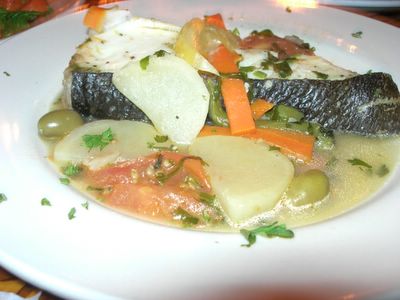 Fish
The fish was the least exciting dish of the evening--the texture was a bit chewy (it was more of a fish steak than a fillet--I prefer a fillet, and that is what Americans are more accustomed to eating), and the tangy olives really didn't go with the other muted flavors in the dish. My favorite thing on this plate was the potatoes.
Not pictured is the most spectacular dish of the evening--a meat pie the size of a dinner plate. (The white powdered sugar topping and the very low lighting made it impossible to photograph well, even with a flash.) More like a dessert than a meal, this dish consisted of finely shredded chicken mixed with cinnamon and sugar (and some other ingredients I couldn't identify) encased in a thin, flaky pastry covered in powdered sugar. I'm not much of a meat eater, but I enjoyed this dish a lot since it didn't taste meaty and the chicken flavor was disguised by the other flavors--the chicken seemed more like it was there for substance, texture, and nutrition--it didn't taste like meat.
Baklava and hot tea
Possibly the best baklava I've ever had--there is a huge difference between fresh, soft, honey-oozing baklava served slightly warm in a restaurant and even the best store-bought baklava, which is usually a lot crisper and often has more layers of phyllo (or maybe it just seems that way because the layers aren't as soft). The strong, sweet, mint tea was also excellent, and surprisingly, they came back to pour us more! They also served us a fruit basket, which I imagine we were supposed to eat from if we wanted, but I didn't feel like I was supposed to eat it, maybe because it was so perfectly color coordinated--purple grapes, a green apple, a red apple, and an orange.
My friend and I both agreed that it had been a great meal. The food was very good, the servers treated us extremely well, and the restaurant had a great atmosphere and a unique meal format. It was even quiet enough to have a conversation, and the cozy booths make a great start to a romantic evening. My only complaint is that the tables are very low, almost the same height as the bench seats, which makes eating a bit awkward. I would definitely go back, though. I've been to over one hundred restaurants in LA, and very, very few of them have good food, reasonable prices, good atmosphere, and are conducive to conversation--most places are missing one or two of these components. We also had tons of food and tons of leftovers for a very reasonably price. Make sure to go with a big appetite!
Marrakesh
13003 Ventura Blvd,
Studio City, CA 91604
Tel. (818) 788 - 6354