The Dining Room
I loved the friendly hostess who didn't scold us for not making reservations or give my mom a look like "what are you doing in Brentwood?" The dining room was very inviting, full of natural light, and yes, this is the whole dining room.
Oyster mushroom and yellow lentil puree amuse bouche
Mmmm, mushrooms. Give me a sauteed mushroom and I'm a happy girl. The yellow lentil puree was unexciting, though. Yellow lentils generally are. The dish was on the overly buttery side, but I ate both mine and my brother's.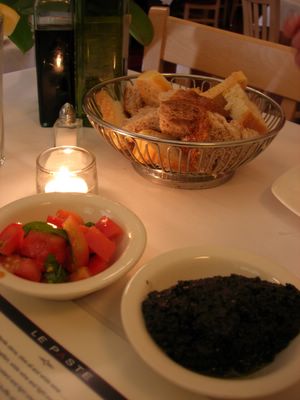 Complimentary bread basket and dips
Why does there currently seem to be a trend of making a dip out of
black olives
? Black olives, the kind that come from a can and taste like a combination of metal and nothing? Also, the tomato basil whatever was silly, because the tomatoes were slightly underripe and it came with no utinsel, as if I was supposed to dip my bread in large chunks of tomatoes. No winners here.
Rigatoni with tomato, basil, and parmesan
Good. Nothing amazing.
Gnocchi
I like Trader Joe's gnocchi better, actually. This just didn't do it for me. I think I make better pesto, too. There was
too much olive oil
in this one, and it used walnuts (my least favorite nut) rather than pine nuts.
Lemon champagne sorbet
This was pretty good. It was brought to our table, gratis, perhaps as a palette cleanser before the dessert. It was hard to drink it all though, because the foam resisted drinking and eventually settled tot he bottom of the glass, where my nose prevented access to it. I guess that's what spoons are for. Or a better choice of glassware?
Dessert sampler
The best part of the meal was the
fantastic panna cotta
on this dessert sampler. I've never had panna cotta before, and really didn't understand what it is (and still don't, but it's that white round thing on the far left). The sorbets were made from fresh fruit--no one told me, but I knew, without a doubt.
So
what is the big deal about this place?
The food didn't really impress me. My wine was not as good as something I could have bought at TJ's or
Whole Foods
for $7. Overall, this seems like the kind of place that
people with unadventurous palates
find really good. I'm not even sure it has potential, since the tomatoes were sub-par (and at an Italian restaurant, that's inexcuseable). Don't get me wrong, the food was not bad by any means. It's just that
there is much better Italian food out there
. Also, if Brentwood is vying for distinction as a Little Italy, they might want to import some Italians.
It's a good place for trophy wife watching, though.
Osteria Latini
11712 San Vicente Blvd
Los Angeles, CA 90049
(310) 826-9222